Partner with Senior Communities Guide for Time-Stamped Unlimited Leads for a small monthly fee
The days of wasted efforts on residents that are not the right fit for your community are over. Senior Communities Guide streamlines the search process with our state-of-the-art filtering system to match seniors with communities by their location, amenities, budget, care needs and more! 
We use the power of Google for potential residents to find you. Our app offers a place to tell your story and show your community in a way potential residents can make a quick decision. We offer 3D Virtual Tours and Photography and other marketing services to make your profile stand out!
Senior Communities Guide is a Minnesota owned company serving Minnesotans. We care and we hope that our app saves your organization from having to pay high placement fees, allowing you to make your Senior Community even better! Have a suggestion? We would love to hear from you.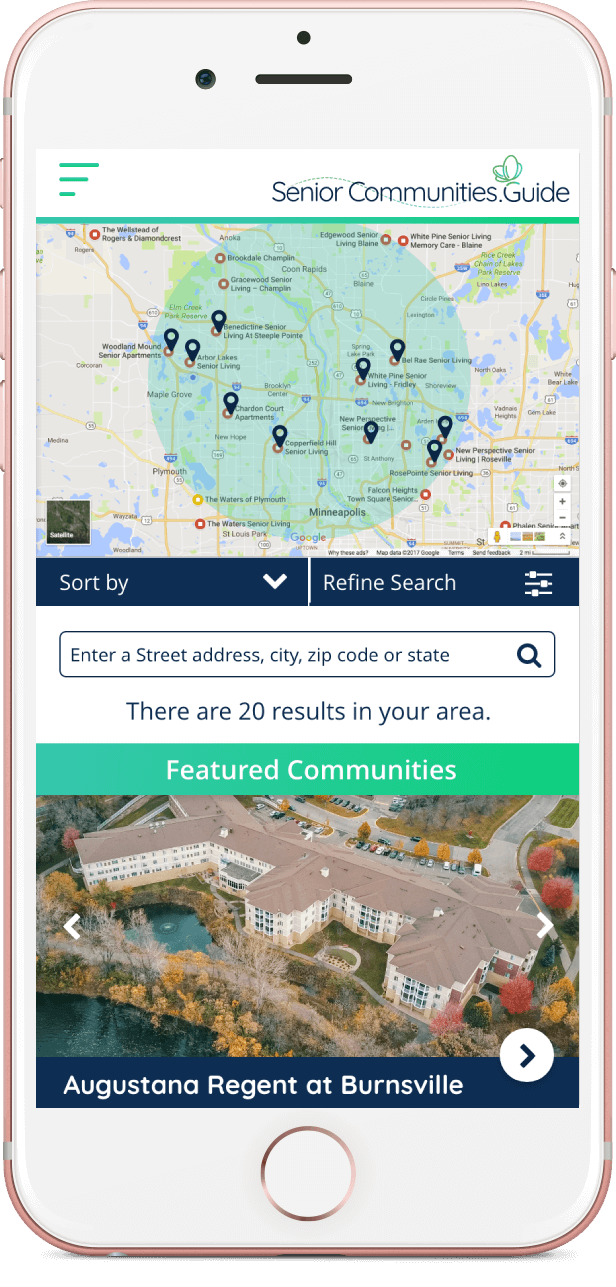 Time saving features you'll love
The Resident Who Fits Best
Filtering allows user to choose filters that fit their needs. Filters are applied & the best matches appear first. Free profiles do not include filters so sign up now!
Detailed Community Profile
Paint a picture of what life is like at your community to help it stand out from the competition.
3D Virtual Tour
Have Senior Communities Guide shoot your 3D Virtual tour so users can tour communities instantly from the comfort of their home. 
Property Showcase Videos
Show users what its like to live at your community with a beautiful custom video created by SCG and featured at the top of your community profile!
Indoor & Outdoor Photography
Senior Communities has a staff of skilled photographers ready to shoot the photos you want for your community. Schedule today!
Google Ad Placement
Senior Communities Guide will use the power of Google to get potential residents to the app to see your profile and send you time-stamped email leads
Plan & Promote Events
Draw in potential residents by sharing any upcoming events directly on your profile. Sign up for the Premium profile now!
Profile Management
Once you have collected your your content, our Production Assistants will load your photos, unit floor plans, and other media to you profile quickly and easily. Have changes? Use our change form.
Search Engine Optimized
Every page of our app is Search Engine Optimized to boost your web presence like never before.
Easy Profile Management
Customer Support
Customer support is available to our communities to help with any and all questions and problems that may come up. We work as your partner to make your community successful.
Analytical Reports
Receive monthly analytical report via email which will show you the number of leads received via phone and email. Emails include name, contact information and are time-stamped.